High Water Events
on
Lake Sammamish
Why does this keep happening?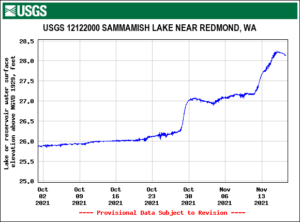 For more information search our website
Washington Sensible Shorelines Association
Who is WSSA?
Washington Sensible Shorelines Association was created in 2008 by citizens who wanted to make sure property owners were treated fairly under a Shoreline Master Program that Bellevue was in the process of revising in 2008.  WSSA advocates for a balance between the property owner's rights, responsibilities, and evolving environmental regulations.
Our ongoing role, and the purpose of this website, is to keep shoreline property owners informed of shoreline issues as they arise, and of changes to regulatory policy pertaining to our shoreline areas.
About this website
Located on this website is information pertaining to the Washington State shorelines.  The menu located in the banner at the top of this page will guide you to research that will help you understand the implications of these regulations and assist you in making decisions regarding your property.
Why should you be interested?
Do you own property within 200 feet of the waterfront?  Under Washington State's Shoreline Management Act, all cities with lakes larger than 1000 acres are required to update their Shoreline Master Program (SMP) every seven years. These regulations prescribe what you can and cannot do on your shoreline property. The most recent update of Bellevue's SMP was finalized in 2018. WSSA is a resource for navigating the multi-agency shoreline programs, which will change over time and likely become more restrictive, not less.  Knowing this, are you interested?
What can you do?
Get on WSSA's contact list to receive periodic communications about shoreline issues
Sign up in the form located on the right-hand sidebar ⇒
Become more informed about shoreline regulations
Spread the word about WSSA to neighbors and influencers
Support us financially
WSSA is dedicated to maintaining a positive and professional relationship with municipalities surrounding Lakes Washington and Sammamish, working to find a balance between responsible environmental stewardship and the rights of shoreline property owners.